In this blog, we are telling about Secure email providers.
Now in today's world, an average professional spends approximately 28% of work time on email (which seems normal and important).
And they forget about one important aspect of this which is Security. Email can be hacked by hackers and your data may not remain private anymore.
But instead of all these points many business houses still don't care about that so if you want to don't want to be stuck in any type of condition then you have to secure email providers.
And here we have the list of secure email providers.
You can choose anyone who matches your requirements. So before moving towards the list let's understand two things about secure email providers-
1. How does secure email work?
This is done with an encryption method (mostly) means end-to-end encryption. End-to-end encryption means your email gets encrypted till it receives by the receiver from the sender. So it is best if you want to choose any email security provider and then look at its encryption method.
2. Is it required to change your email address for using these secure services?
You have to forward messages to a new inbox. In most cases, you have to create a new email address. But some providers also give facility for migration from old to a new one and you also know about the Secure email providers
The security provider has no access to your message as it gets encrypted so the only person who can read your message is your email receiver.
Nowadays some providers also use- the 'Sender Policy Framework' as an additional layer for the secureness of email. As that service adds additional security in which- if anyone wants to send an email with their email id with another IP address then the receiver gets a notification that is email does not come from an authorized user.
How to choose an email provider?
With- Server location
Two Factor Authentication- your password & another authentication as well.
Encryption- symmetric or asymmetric encryption.
Open-source- look at its source code for analyzing only for users.
Metadata Header stripping- email contains metadata about the receiver & sender.
10 Secure email providers are:
ProtonMail
HubSpot
Mailbox.org
Startmail
Zoho Mail
Thexyz
Tutanota
Hushmail
CounterMail
Mailfence
ProtonMail
ProtonMail is the best email service, provider. It was based in Switzerland, open source, and suitable for end-to-end encryption. If you want to send 150 messages per day then you will use ProtonMail for free.
It has the feature of self-destructing emails and you also set the expiration date, and it was deleted from the inbox also and it is one of the best the Secure email providers
Its security feature is good because the ProtonMail does not know your password even to decrypt emails. It is available in a mobile App for Android and iOS.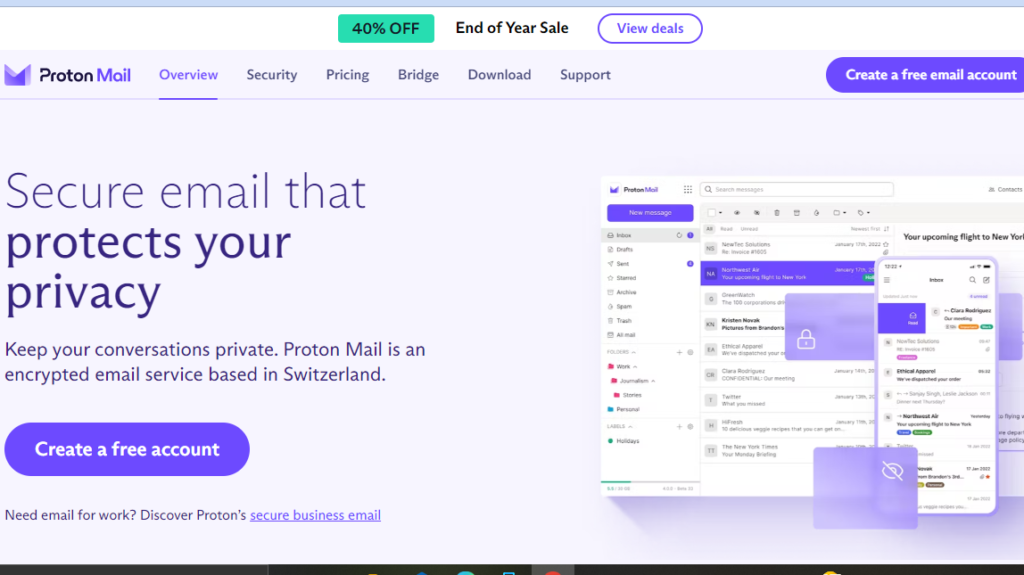 Features:
End-to-end encryption
Open source
Mobile App
Servers based in Switzerland
Zero access encryption
Custom domain with paid plans
Price
Free
150 messages per day
Plus
$5 per month and 1000 messages per day
Professional
$8 per month and unlimited messages
Visionary
$30 per month and unlimited message
HubSpot
Hubspot is suitable for those who have all-in-one business solutions. It gives email hosting and marketing solution, customer support, and content management and also know about the Secure email providers
You can authenticate your mail with two-factor authentication, using SPF, and DMARC. When you store your personal data it will encrypt the data with top security.
It only purposes not to secure the emails but also secures the tools that you are using through it.
Features:
Email Recall
Two-factor authentication
All-in-one CRM solution
Single Sign-on for enterprises
Data sync with Marketing, Sales, and Service Hubs
Price
Free
Free tools available
Starter
$45 per month and 1000 marketing contacts
Professional
$800 per month and 2000 marketing contacts
Enterprise
$3200 per month and 10,000 marketing contacts
Read Also: The Best Email Marketing Services
Mailbox.org
Mailbox.org offers a wide variety of features like- video conferencing, an address book, a task planner, and very important encrypted cloud storage. It uses the actual standard for email encryption which is a public-key encryption program and also knows about the Secure email providers
You may be surprised to know that this software uses eco-friendly energy.
No-free plan but you can still afford it. As it is widely used by many business houses.
Key features:
PGP encryption method
Calendar
Not a free of cost
Encryption cloud storage
Server build in Germany
Pricing:
| | |
| --- | --- |
| Standard | 264 INR, 3.20 USD for 5GB cloud storage & 10GB mail storage |
| Light | 88 INR, 1.16 USD no cloud storage & 2GB mail storage |
| Premium | 791 INR, 9.58 USD for 50GB cloud storage & 25GB mail storage |
Startmail
Startmail is a secure email service directed by the same people who are also responsible for managing the private search engine (startPage). It does not have any free plans but it also offers a 30-day free plan (if you like it then can also choose the paid one).
PGP encryption is also used by StartMail and it also works with other PGP clients. Here you can send encrypted messages to non-PGP users about any secret question and also know about the Secure email providers
Features:
Easy PGP encryption
IMAP & SMTP support
Server build in the Netherlands
Obscures hostname & IP address
You will also use your domain name
Pricing:
| | |
| --- | --- |
| Personal account | $35.99 per year |
| Business account | $59.95 per year |
Zoho Mail
Its workspace plan offers its users the word processor, spreadsheet software, webinar platform, and chat features. Zoho has a free version that can be used by anyone. It is one of the best Secure email providers
Zoho Mail encrypts the mail using asymmetric cryptography called S/MIME.It is easy to use. It has a control panel that manages all the settings.
Key Features:
Contact portal
Calendar
Email Recall
Mobile apps
Servers located around the world
End-to-end encryption
Price
Mail Lite
$1 per month
Mail Premeium
$4 per month
Workplace
custom or $3 per month
Thexyz
Thexyz is believed to be a lesser secure for your email. Here you are free to use PGP which is open for end-to-end encryption with a browser add-on called Mailvelope and your email gets protected by firewalls & spam filters.
This platform will not provide you protection from government agencies. Their migration service is helpful for migration from Gmail & other email providers.
The headquarter is spread across from Canada to the US.
Features:
POP, IMAP, and OpenPGP support.
Calendars
Two-factor authentification
Mobile apps
Deleted email restoration
The server also in Europe as well
Pricing:
| | |
| --- | --- |
| Premium Webmail | $2.95/month for 25 GB of storage |
(Add-ons available)
Tutanota
Tutanota also provides end-to-end encryption and two-factor authentification. It is also an open-source secure email provider.
Tutanota uses RSA & AES instead of PGP. This software company is very serious about security. Combining Asymmetric & symmetric keys with algorithms like PGP makes your email more secure. Other features like- header stripping, image blocking & message about phishing attacks.
The free version will provide you with 1GB of storage with a single calendar.
Key features:
End-to-end encryption is available
Metadata stripping
Addition of an encrypted contact form to the website
A server situated in Germany
Encrypted calendars and contacts
Unlimited messages (with a free version as well)
Usage of a custom domain on premium plans
Pricing:
| | |
| --- | --- |
| Free | 1 GB of storage |
| Premium | €1/month (1 GB of storage) |
| Teams | €4/month (10 GB of storage) |
(Many add-ons available)
Hushmail
Hushmail is a very popular secure email provider. It uses HIPAA compliance. Here you can encrypt emails that contain about your health. Help you in audit and separate account get maintained by that provider- where all your email whether sent or received by all users with your domain.
Hushmail uses OpenPGP encryption.
Key features:
IMAP and POP support
Spam filter
Electronic signatures
Private message center
Mobile app
A server is situated in Canada
Two-factor authentication
Pricing:
| | |
| --- | --- |
| Healthcare | $9.99 per month |
| Small Business | $5.99 per month |
| Law | $9.99 per month |
| Personal Use | $49.98/year |
CounterMail
CounterMail seems very serious about security which can be seen if you visit its page. It is very unique as they don't have hard drives, Use CD-ROM for extra security.
The password manager will be Safebox. And all the usernames & passwords get protected by one master password (which is not recoverable if you forget). You can get a 10-day free trial- if you know someone who uses CounterMail. Use PGP encryption with an updated version of AES and RSA algorithm (made by themself).
Features:
Doesn't keep IP logs
IMAP support
No free plan
A server is situated in Sweden
Two-factor authentication
End-to-end encryption
Pricing:
$79/2 years, $49/year, $29/6 months
Add-ons available starting at $19 for 250MB
Mailfence
Mailfence provides end-to-end encryption and also provides two-factor authentication. It has a password manager that manages the password.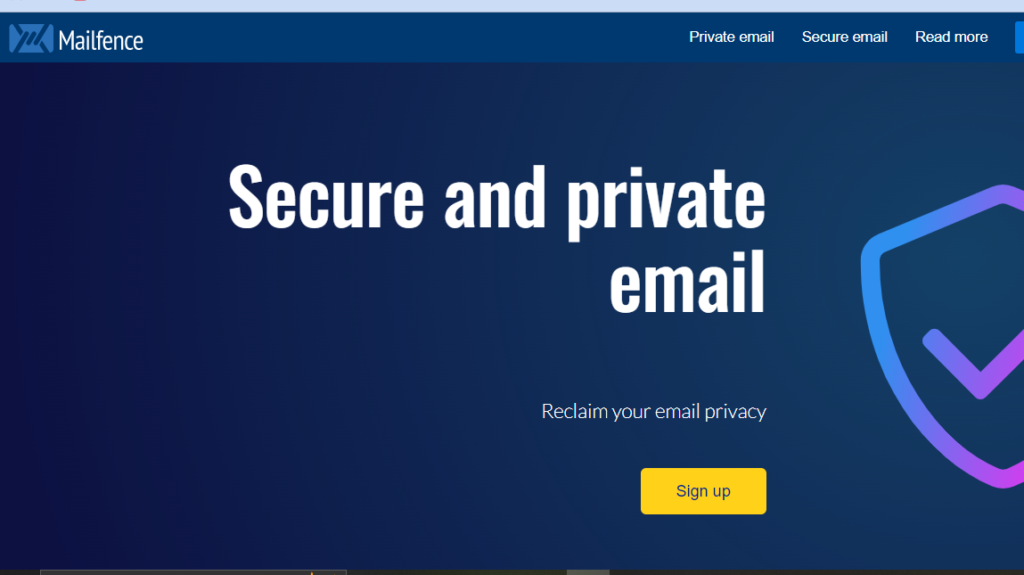 It is best Secure email providers that have tools like messaging and calendars. It is more security features compared to Gmail and outlook.
Features:
Calendars
Messaging
Two-factor authentication
Password manager
End-to-end encryption
Document storage
Pricing
Free
500 MB of emails
Entry
€2.50/month for 5 GB of emails
Pro
€7.50/month for 20 GB of emails
Ultra
€25/month for 50 GB of emails
Is Gmail has a security system
With Transport Layer Security (TLS) encryption system for protecting emails. If the receiver also has a TLS system, the sender's email is protected. If an email appear in your mailbox then the provider can also see that email.
Is it really necessary to encrypt an email
Not. It is much easier to use end-to-end encrypted email providers. Manually encryption can be held. For PGP you need a whole environment of this.
How can I see if my email can be read by any other
In one sentence it is much more difficult to know Whether your email is been hacked by an ordinary person without knowledge. To remove this problem you just need only use end-to-end encryption.
Why should I go toward encryption
While sending confidential information
What can happen if my email gets hacked
Hackers can send any with your email account any message. So your reputation may come in a dangerous situation. Other accounts also rely on your email. Your online identity may also get distorted. And money transfer cases also come in danger. So why should you take the risks?